Hi there, Thanks for visiting.

Computer Communications (CC) began in December 1995 when I found myself between positions. I work on it now and again and whenever I find myself with some spare time for my own pet projects. I've completed migrating the artizt.com website to an IIS 6.0 server. In the process I completely re-engineered all my old Linux gcc C code to MS Visual c++ and recompiled using visual studio 2008. Since it had been on a Linux server I had a lot of recoding to do especially to get "THE WALL" working again so it would be usable and fun. Now since I'm hosting the server myself (it's in my living room) I shouldn't have any more issues with hosting services. Now that I've got all of my programs working again I hope some of my fans might want to try them out again. I've added many new flying videos and a couple new Android apps too.

I've never been a gamer prefering to code till I drop rather than wear out my good shoulders playing games. It's good to have activites to occupy you in your time off and I've been getting out a little more. I've been able to attend some groups to network with like minded people and fly my PPG. My first love has always been electronics and I practiced that for some 20 years but that gave way to computers as my second life career began in the late 1980's. I went through a phase where I wanted to be a chemical engineer and I studied that for about 4 years while I worked full time but what I found was I really loved programming most of all. Probably because I'm so darn good at it. I get a real thrill of accomplishment when I get a particularly gnarly section of code to work. My favorite languages are C, C++, Visual C++, Visual Basic and JAVA. I've even done a bit more than I care to admit of assembly language programming. I have hooked up databases using these languages mainly Informix, MySQL and Windows SQL. I've written tons of SQL queries and stored procedures. I'm no stranger to client server or object oriented architecture and messages are what makes things work together. But, that's not all. You should check out my resume which is linked to later on this page if you're interested.

What follows are a few demo programs that I have written especially for your enjoyment. They were created principally so that interested employers might see what I am capable of. Please scroll down to locate links to my resume and skillset pages or to send me a short note. I have just completed migrating the Rock Assault code to the Android platform so you can play it on your cell phone. You can find it in the Android Market just search for RockAssault. I've also developed the Trek Trecker Tracker program that allows its users to create treks on my AWLSports.com website and share them with others using Google maps and Earth for PC or mobile. I might follow these up with the Mandelbrot and Rubicks cube programs for the Android later as time permits. Stay tuned for more because it's what I really enjoy doing...

Stop those darn bouncing balls. Man are they annoying !

---
>--- When I'm not programming you can find me skimming the treetops in my
PPG Powered Paraglider ultralight aircraft. Now you can entertain yourself
with some of my flying videos. Did I mention I'm a pretty good videographer?



>--- Below is a team map I made of the locations I enjoy flying at near and
around the Kansas City Area. Please feel free to add as many more locations
as you know of if any.


>--- Click here to see some actual flights I've made using the Trek Trecker
Tracker program below and google maps.

>--- The Trek Trecker Tracker App available for the Android through the
Android Market. This is how I now track the paths of my flights. It's easy
to use but you'll need to read the info screens to find out how to share your
Treks with your friends on facebook, twitter or by email.


The Trek Trecker Tracker App Lets you share where you've been in 3
dimensions with your friends.

>--- Created in January and February of 2005 and recently updated in July of 2011
I proudly present the WALL. An amusing online interactive grafitti guestbook.
Be sure to share your artwork by clipping the address from the address bar and
share it on facebook, twitter and elsewhere.


The Wall Draw a picture in my new interactive web based guestbook.

>--- The YX3Z SEXY T Shirt sales program
You can join for free and use your generated QR code on business cards or
Tshirts of your own design or you can purchase a QRTShirt ffom YX3Z and join
in the profits. It's free to join and easy to use. Each YX3Z QRTShirt comes
with it's own website and links page advertising website.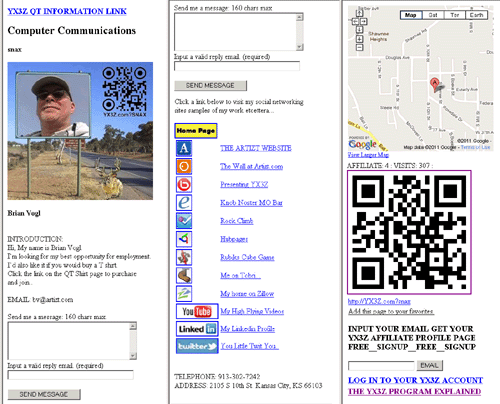 YX3Z QRTShirt sales associate. An interactive sales program.

>--- The Economic Simulation Program. Is a Visual Basic program developed part time
over multiple years. It was developed in cooperation with a good friend of mine as
his lifelong project to help educate his college students in micro and macro economics.
The website presented is a complete course in economics utilizing the economic simulation
program.


The Economic Simulation Home page, Economic Simulation classroom toolkit.

>--- The ROCK ASSAULT Rock Climbing Game. The ROCK ASSAULT Rock
Climbing Game is a game of skill, and endurance. See if you can climb your
person to the summit to watch the sunrise. Also look for this program in the
Android market.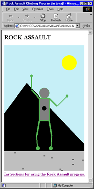 The ROCK ASSAULT Game, my latest rock climbing challenge.

>--- The rubix cube was a 1970's phenomena which I have recreated here for your
enjoyment. .I personally spent hours trying to figure out how to undo the cube.
This program, remembers the moves you've made, and is able to undo them by itself!
There's also an automatic button, that will spin the cube randomly.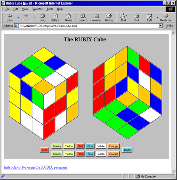 The Rubix cube, a java program to play spin the cube.

>--- The Mandelbrot set was made popular by the "invention of chaos theory". This
program allows you to select an area to enlarge, and zoom in on it. Have fun looking
at all the different colors and shapes you'll find.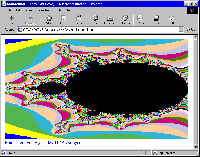 The Mandelbrot set, a fractal image generator. Mandel allows you to zoom in on
finer and finer detail.

>--- The base conversion program is a utility I wrote very early in my programming
career. I was disappointed by overflow errors, and the size of float my computer
could handle. I devised a method that manipulates strings, rather than raising
floats to some power. My method allows you to convert any number of digits to a
different base.



The ANYBASE base conversion program. A program that let's you convert numbers
of any length from one base to another.

>--- The NDSP Lending Library; NDSP stands for Neurologic Disabilities Support Project.
It is a program that helps kids with disabilities. I programmed the lending library for a
UNIX or LINUX server to help the University of Kansas NDSP staff with their free information
dissemination project. Unfortunately the lending library project has been discontinued due to
a lack of funding. So this link is broken.


The Neurologic Disabilities Support Project Home page, with links to the NDSP, and other libraries.

>--- View or print the pdf version of My online resume.

>--- A brief synopsis of my skillset as it pertains to programming.

Well, there you have it. If you have any questions about this site, or would like more
information about me, simply email me, write me, or telephone me. We can arrange a time
to get together to discuss your project in detail. I look forward to hearing from you.


Sincerely
Brian P. Vogl
2105 S 10
Kansas City, KS. 66103
913-302-7242 mobile or to leave a message.
Send mail to: bv@artizt.com
I may also be contacted at Linkedin.com and Facebook.com.

Or Simply fill out the form below and press submit.
(I cannot reply to messages sent without a valid email address.)